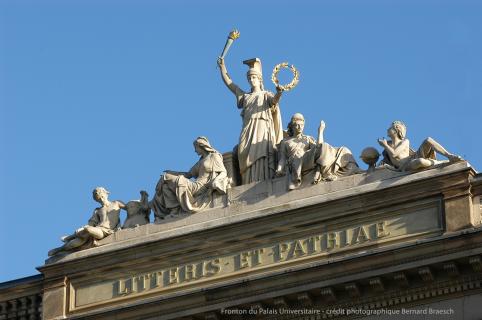 The Library service of the University of Strasbourg is today one of  the biggest multidisciplinary university library service in France, federating 25 libraries with collections of around 1,3 million volumes of books, 48 000 printed and 37 000 electronic journals, 190 000 printed and 4 000 electronic dissertations, 7 800 partitions, 7 500 maps.
The collection of old books offers more than 150 000 volumes including 30 000 items published before 1830. More than 75 000 photos from 19th and early 20th centuries are also conserved.
The most notable old documents come from scientific, medical, juristic, archaeologic, musicological and artistic (history of art) collections.
The library service manages a digital library program including several thematic series (500 000 pages as of December 2015).
Old books and other specific documents (especially music scores and maps) published until 1920, across all domains, are available in electronic version on request via EOD.