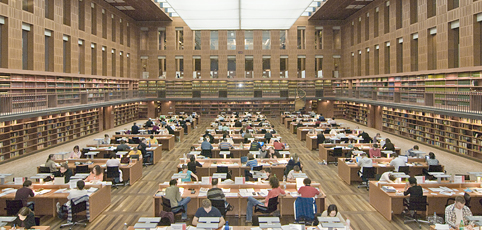 In its capacity as university library, state library and coordinating attendance center for Saxony's academic libraries, SLUB performs three eminent service functions. It is well stocked with an exceptional variety of media. Among other highlights, the photographic archives ("Deutsche Fotothek") with more than 2.9 million images, the internationally renowned music collection or the distinguished map collection deserve special mention. With an annual growth of more than 100.000 items, SLUB not only supports research and education at Dresden Technical University but also supplies the whole state with information and knowledge within Saxony's high-capacity network of academic libraries. Moreover, SLUB plays a leading role in the German interlibrary loan system. It is involved in numerous third party funded projects and cooperates with various cultural institutions.

A high performance digitization center with a wide range of scan equipment makes it possible to digitize almost all kinds of media as gently as possible.

Within the competence network which is presently launching the "German Digital Library," SLUB also contributes its know-how in the field of production and presentation of digitized sources in a national context.